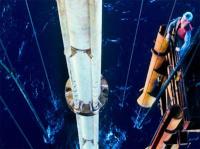 Australia's National Offshore Petroleum Safety and Environmental Management Authority (NOPSEMA) concluded its staged release of documents relating to Bight Petroleum's proposed seismic survey to be undertaken in the Great Australian Bight, off the coast of South Australia.
NOPSEMA commenced releasing documents relating to the survey in December 2014, making them publicly available through its website, following a request by the International Fund for Animal Welfare (IFAW) under Freedom of Information (FOI) legislation.
NOPSEMA CEO, Stuart Smith, said NOPSEMA undertook a thorough assessment of the Lightning 3D Seismic Survey Environment Plan submitted by Bight Petroleum Pty Ltd. in accordance with the Offshore Petroleum and Greenhouse Gas Storage (Environment) Regulations 2009 and its assessment policies.