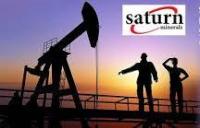 Saturn Minerals Inc. has completed its third 2D seismic program over Petroleum Exploration Permit 71 (the 'Little Swan Property') consisting of 102,758 Hectares in the northern Williston Basin in eastern Saskatchewan. The seismic program was designed to evaluate the deeper Ordovician-Cambrian targets originally identified as having hydrocarbon potential from geologic mapping.
The seismic program consisted of 2 lines of 2D data totaling 27 km and are intended to identify potential structural and stratigraphic traps that could accumulate economic amounts of oil in well-known oil producing formations deeper than that those in which Saturn initially encountered signs of oil.
In 2011 approximately 60 km northeast of the current seismic program, Saturn was conducting an exploratory drill program targeting shallow coal seams up to a maximum depth of 120 meters. During this program, Saturn encountered a section of dolomitic limestone of Devonian age that contained degraded oil, indicating that oil had migrated through the system. This oil show was subsequently identified as sub-surface oil seep and an important indication of an active oil system within this part of the northern Williston Basin.