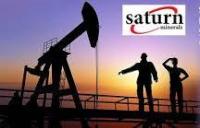 Saturn Minerals Inc. has completed the previously announced 2D seismic program over Petroleum Exploration Permit 72 (the "Bannock Creek Property") has received final work permits to complete the seismic program on Petroleum Exploration Permit 71 (the "Little Swan Property"). The Company has retained GeoStrata Resources Inc. of Calgary to complete the seismic program and has mobilized a work crew to commence work on the Little Swan.
Acquisition of data using dynamite on the Bannock Creek Property entailed 3 lines totaling 30 km. This program brings total 2D seismic data acquired on Bannock Creek to-date to 60 km in 6 separate lines.
The Company is currently incorporating this latest seismic data into its existing model to better map a significant target within the Red River / Winnipeg Formations. This structure was first identified in earlier seismic programs and has been the principle focus of all ensuing seismic work which is intended to establish closure and size leading to a drill target. The structure on Bannock Creek is approximately 1,920 acres in size and compares well to the analogous fault bounded "Tyvan" Oil pool in T13 R13W2 producing from the Red River (Yeoman) and Winnipeg Sands.