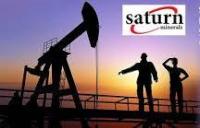 Saturn Minerals Inc. has completed the interpretation of the latest seismic data with 3 additional recently acquired lines now totaling 60 km on the Bannock Creek property in eastern Saskatchewan.
The Company has incorporated the new seismic data with its existing geophysical model for the Bannock Creek project which is designed to identify and confirm closure for potential light oil traps in the stacked Red River, Winnipeg and Deadwood Formations of the Northeastern Williston Basin.
Saturn is pleased to report that the recently acquired data has confirmed the anticlinal four way closure of a drillable prospect on the Bannock Creek property.
This closed fault bounded roll over structure is 480 acres minimum in area and has the potential to contain up to 38 million barrels in place of resource from all three targeted reservoirs.