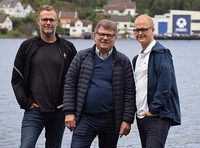 PARAT Halvorsen recently entered into a large project contract with Songa Offshore for the design, supply and installation of complete exhaust gas heat recovery systems on the four Category D semisubmersible drilling rigs that recently went into service on a long term contract with Statoil.
In total the delivery scope includes 24 custom designed, ultra-low weight exhaust gas boilers, each with a capacity to recover 1400 kW of heat from the diesel engine exhaust gas. Close to 2 kilometres of insulated piping and a full upgrade of the HVAC control system are also part of the package. In total Songa are expecting to reduce the emissions from the rigs by more than 45,000 tonnes CO2 and close to 760 tonnes NOx per year of operation with the PARAT system installed.
For PARAT Halvorsen this is a very important contract and the result of many years of strategic sales work towards the oil and gas industry. The increasing focus on reducing harmful emissions from offshore operations in combination with the requirement to reduce operational cost puts Parat Halvorsen in a very good strategic position as a renowned and respected supplier of turnkey solutions for energy recovery.