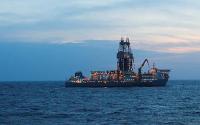 Transocean Ltd. has issued its quarterly Fleet Status Report that provides the current status of and contract information for the company's fleet of offshore drilling rigs. As of October 26, 2017, the company's contract backlog is USD 9.4 billion.
The newbuild ultra-deepwater drillship Deepwater Pontus commenced operations in late October on its 10-year contract with Shell in the US Gulf of Mexico.
The company agreed with SembCorp Marine's subsidiary, Jurong Shipyard, to enhance the two, newbuild drillships by increasing the hook load capacity to three million pounds. With the upgrade, the company has further delayed the delivery dates on each rig. The drillships are expected to be delivered in the second and fourth quarter of 2020.
The report also includes the following contracts:
Deepwater Invictus - Awarded a two-year contract plus three one-year priced options
Deepwater Nautilus - Awarded a four-well contract plus 11 one-well priced options offshore Southeast Asia
Paul B. Loyd, Jr. - Awarded two contracts, both in the U.K. North Sea

two-well contract plus three one-well priced options
two-well contract plus two one-well priced options
The report can be accessed on the company's website: www.deepwater.com