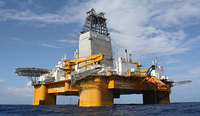 IFS, the global enterprise applications company, has announced that Odfjell Drilling, an international drilling, well service and engineering company, has decided to implement IFS IoT Business Connector to make data captured by drilling rig assets accessible in its enterprise software suite IFS Applications™.
Odfjell Drilling is an international drilling, well service and engineering provider with projects in more than 20 countries. For drilling contractors, long-term asset management and maintenance are top priority since downtime directly affects revenue and results. To monitor asset performance, Odfjell Drilling is implementing the IFS IoT Business Connector, which is set to be up and running in Q2 2018.
"Now more than ever, we have to adapt with smart new digital solutions to stay competitive and profitable. IFS helps us achieve that and we have had a positive experience with the company's people and technology since we first started to use IFS Applications three years ago. The IoT Business Connector will give us better control of the maintenance of our assets, and we are excited to see the positive effects this will have for our company in terms of asset reliability, service performance, and cost savings," says Tor Tjeldnes, CIO at Odfjell Drilling.
The IoT Business Connector is a seamless integration into IFS Applications that enables data to be pulled from a high number of assets for learning, adapting, and implementing optimisations in a highly efficient way. The solution enables Odfjell Drilling to have assets on their rigs transmitting condition readings to IFS Applications, which then form the basis for planning and optimising maintenance activities. This will allow Odfjell Drilling to act more rapidly to service needs and work proactively to prevent problems before they arise.
"We are pleased that Odfjell Drilling sees the value in implementing IFS IoT solution into its fleet. This is a testament to our strong position in the oil and gas market and we look forward to continue our partnership with Odfjell and other drilling contractors on their digitisation journey. There are large opportunities to improve operations and save costs, and we look forward to working with our clients to achieve this," says Glenn Arnesen, CEO of IFS in Scandinavia.