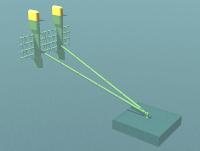 Nova Scotia renewable energy company Black Rock Tidal Power Inc. (BRTP) has awarded the contract to fabricate its TRITON S40 tidal power platform to Aecon Atlantic Industrial Inc., a wholly-owned subsidiary of Aecon Group Inc. This will be the first full-scale fabrication of this technology in the world. The instream tidal device will be installed in the Bay of Fundy in 2017.
"This was a highly competitive bidding process involving several highly qualified Atlantic Canada companies," says BRTP's General Manager Nils Hirsch. "With their strong experience in marine fabrication, Aecon's workforce will be a significant benefit to our project."
BRTP's tidal-current energy technology uses forty SIT 250 turbines mounted on the TRITON, summing up to 2.5 MW overall capacity. Because the TRITON can be easily brought to the surface it allows for easy maintenance access. The use of multiple small turbines together with TRITON's maintenance approach reduces both capital and maintenance costs.
"Aecon is pleased to be working on this significant tidal energy project with Black Rock Tidal Power, and we are confident this project will showcase Aecon's experience and best-in-class facilities in Nova Scotia," says Mark Scherer, Executive Vice President, Aecon Energy.
BRTP is one of only five companies from around the world awarded a demonstration site at FORCE, Canada's leading research centre for instream tidal energy located in the Bay of Fundy.
"Our team is on the leading edge with this innovative technology and we are excited to be working with Aecon and many other Nova Scotia companies to show the world the benefits of tidal power," says Hirsch.
"Building a tidal industry on sustainable practices is creating new jobs, launching new companies and attracting major investments," says Michel Samson, Minister of Energy. "Investments like these help local companies build solid experience and capacity leading to more opportunities for our workforce."
Unlike wind power, instream tidal power is a predictable source of renewable energy because of the regularity of the tides. This means that tidal energy can be used on a commercial scale to produce renewable electricity and reduce greenhouse gas emissions.