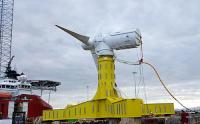 Aberdeen-based subsea cable and connector specialist, Hydro Group has completed a major contract with technology developer and supplier of tidal turbines, Andritz Hydro Hammerfest (AHH). The agreement saw Hydro Group supply complete connection systems for three turbines on the world's most advanced multi-turbine tidal stream energy development.
This second MeyGen contract followed on from an announcement in November 2015 regarding a contract with Atlantis Resources – 86% owner of MeyGen Limited – for which Hydro Group supplied the complete export connection system for one of the tidal turbines. This most recent contract win saw Hydro Group (contracted by AHH), supply the complete connection system for the remaining three turbines.
As part of phase 1A of the ground-breaking 398MW tidal array project, four submerged turbines, generating 6MW, have been installed in the Pentland Firth, Scotland, with more than £50million having been raised to finance the initial stage.
Doug Whyte, managing director at Hydro Group says, "This significant MeyGen project is further testament that Hydro Group is seen as a major operator and supplier to the renewable energy markets. With several decades of renewable energy industry experience behind us, Hydro Group is at the forefront in the development of cables, terminations, connectors and junction boxes, with involvement from the initial prototype stage through to design and manufacture."
The scope of work involved Hydro Group providing the connection management system and interfacing the export cable up to the nacelle, including the dynamic cable, the in-board connection system and the mechanical loading system, transmitting a power output of 1.5 MW at 4.0 kV per turbine and incorporating fibre optic links.
Whyte continues, "As offshore installation costs are the highest in any marine infrastructure, minimising those costs has been a strong focus for us. We design our systems to mate and de-mate (connect and disconnect) in less than one hour to ensure offshore installation cost is reduced.
"Further to this, Hydro Group's system is designed for minimal maintenance and operational costs with in-built corrosion protection, resulting in a system that has 25 years' service life."
The MeyGen project has the potential to provide clean, sustainable, predictable power for 175,000 homes through a network of 269 tidal turbines secured to the seabed, with the first power to the national grid delivered late 2016.
"The tidal array is the first of its kind in the world, making for one of the most innovative renewable energy projects, and we are delighted MeyGen selected Hydro Group to play a key role supporting this initiative", concludes Whyte.
Involved from prototype concept through to design, manufacture and project management, Hydro Group manufactures the complete package including FAT at its state-of-the-art facilities in Aberdeen, Scotland; umbilical cables, electrical and optical connection systems/assemblies for data, power and signal transmission.