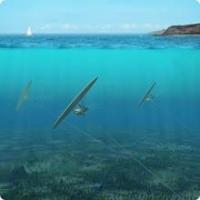 Marine energy technology company Minesto, together withIT Power and National Physical Laboratory (NPL), have been awarded more than £500,000 from the British Department of Energy and Climate Change (DECC) in the 2nd round of the Energy Entrepreneurs Fund. The funding will be used for extending the quarter scale ocean trials with the Deep Green tidal current power plant in Strangford Lough, Northern Ireland, to validate its commercial performance.
The Department of Energy and Climate Change (DECC) works to make sure the UK has secure, clean and affordable energy supplies and promotes international action to mitigate climate change. By supporting investments in the UK's energy infrastructure, DECC strives to keep energy bills down and promote action in the EU and internationally to maintain energy security and mitigate dangerous climate change.
For this, DECC established the Energy Entrepreneurs Fund from which Minesto, IT Power and NPL have now received a grant of over £500,000 for a project worth almost £900,000. The objective of the Fund is "to help bring a range of new and innovative low carbon products to market".
Minesto´s CEO Anders Jansson welcomes the funding: "It is truly exciting that DECC realizes the potential for Deep Green to unlock the low velocity tidal current market in the UK; this proves that Governments have confidence in our company and our technology. In the UK alone, the Deep Green technology has a carbon reduction potential of over 30 million tons of CO2 per year. Furthermore, the grant from DECC has enabled Minesto to employ more local expertise for the ocean trials in Northern Ireland."