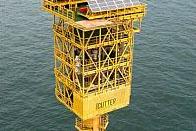 WhisperPower has been awarded a significant order by the Dutch exploration and production company NAM. The order, which is for three autonomous renewable energy systems, will be installed on an unmanned oil & gas rig to deliver power for the navigation lights, alarm and detection instruments and the remote communication system.
WhisperPower's Grid Independer is an autonomous hybrid power system consisting of power generation, storage and conversion parts. The main power source of the Grid Independer are the solar panels configured to 150V DC and for this project that means 80 individual panels each of 200 WP. The SUNTRACK MPP Tracker (Maximum Power Point Tracker), a special high efficiency solar voltage regulator with a total load capacity of 400 amps, is used to charge the 1200 Ah traction battery bank.
The WhisperPower Centre's (WPC) 10 kW sine wave inverter, which is connected to the battery bank, supplies 230V AC / 50 Hz and a built- in 12kW 1500 rpm generator is set to start automatically should there be insufficient solar radiation. Whilst the AC power supply is direct, the WPC's supplies power to recharge the battery quickly. Once recharged, the generator automatically switches off.