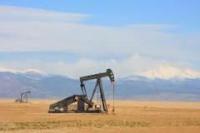 Quattro Exploration and Production Ltd. has completed and tied-in of the first of two light oil wells at Oak, BC. The conventional oil well was a re-entry and completion that tested at 125 boe/d (net) 75% oil, 25% gas to Quattro and is anticipated under good production practices to average 75 boe/d in the first 180 days graduating to having a 7 to 10% annual decline after 180 days of production.
Further to these results Quattro deemed it appropriate to complete an addition tranche of its previously announced non-brokered private placement (the "Private Placement") in the aggregate additional amount of $671,149.90 consisting of the issuance of an additional 1,597,976 common shares on a "flow-through" basis, to Canadian institutional subscribers at a price of $0.42 per common share.
The closing brings the total amount raised under this placement to an aggregate $1,679,149.90, consisting of the issuance of 3,997,976 common shares. The additional shares are subject to a four month hold period that expires on April 24, 2015. In connection with the current portion of the offering, the Company paid a finder's fee of $33,557.50 representing 5% of the aggregate subscriptions secured by an eligible finder.