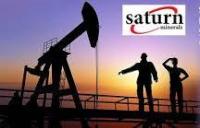 Saturn Minerals Inc. says that Wayne Slemp has joined the Advisory Board and is significantly bolstering the Company's operating technical team with regard to the Company's oil and gas projects.
Wayne Slemp has over 43 years of experience in the oil and gas industry and 37 years directly related to drilling operations in Canada and internationally both onshore and offshore.
Mr. Slemp has worked extensively in the Canadian oil and gas drilling industry in western Canada as well as internationally in Pakistan, Syria, Chad, Kazakhstan, Libya, Norway, Denmark, Bangladesh, Oman, Algeria, Saudi Arabia, Iran, Borneo, Indonesia and the West Coast of Africa. In his career Mr. Slemp worked as a (senior) Drilling Supervisor and Superintendent for Aral, BP, Glencore, Petro Canada and Repsol, among others.