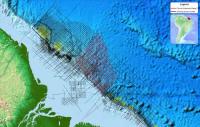 Spectrum reports the commencement of a 10,400 km Multi-Client 2D survey offshore Brazil in the Amazonas and Para-Maranhao basins along the Equatorial Margin of Brazil.
The new acquisition program will tie five of Spectrum's Northern Margin programs producing a continuous dataset from the French Guyana border through the Potiguar basin.
Data is being acquired with a 12,000 meter cable to record data necessary to understand the basins architecture as well as image the prospective zones in the mid and lower Cretaceous sections. The data will be processed in Spectrum's processing centre in Houston. PreSTM, PreSDM and Broadband products will be available in Q4 2016.
To supplement the new acquisition in this active exploration area, Spectrum will merge this survey with over 125,000 km of recently acquired and reprocessed data to provide industry with a uniform dataset along the Brazilian Equatorial Margin. The high end products, including PreSTM, PreSDM plus associated Broadband products will tie seamlessly across the area.
Richie Miller, EVP Multi-Client North & South America, comments, "Spectrum has started on our next campaign in Brazil in order to provide new long‐offset data over the prospective equatorial Margins for an anticipated round in 2017. The Atlantic Margin play continues to provide excitement and new insights on both sides of the Atlantic, and this survey will provide new data over a very lightly explored area."
The survey is acquired in partnership with BGP.