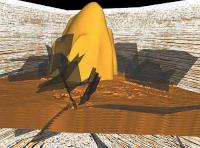 Following a performance-based assessment, Statoil, has selected the IHS Kingdom® geologic and geophysical interpretation software suite as its primary geoscience workflow platform for the company's US onshore operations, according to IHS, the global source of critical information and insight.
IHS Kingdom is the Microsoft Windows®-based geoscience software interpretation tool used by thousands of geoscientists in more than 80 countries to evaluate potential oil and gas reservoirs and plan field development.
A technology leader and pioneer in unlocking hydrocarbons from US shales, Statoil has leveraged its acreage holdings and its expertise in both drilling techniques and the geology of the leading shale plays to grow into a company that produced nearly 91 thousand barrels of liquids per day, and 818 million cubic feet of natural gas per day during first-quarter 2016, on an equity-volume basis.
"Statoil's US unconventional assets represent approximately 11% of the company's current equity production, which is produced from the Bakken, Eagle Ford and Marcellus plays," according to Sam Hanna, senior principal equity analyst at IHS, who covers Statoil.
"In today's challenging commodity market, the fit-for-purpose efficient tool set is the key driver for an operator's limited staff," says Russell Roundtree, vice president of geoscience and engineering at IHS. "With geoscientists working on unconventional and conventional oil and gas resource plays, Statoil's requirements for a streamlined enterprise-level geologic and geophysical analytical toolset have grown substantially during the last several years. We are extremely pleased to provide the solution that best fits their expanding business needs, and to have our IHS Kingdom Geoscience software platform adopted by Statoil."
According to Roundtree, Statoil selected IHS Kingdom as its primary geoscience workflow platform for the company's U.S. onshore operations after running an exhaustive evaluation of all the top upstream integrated application suites. IHS was found to provide the most intuitive, efficient, yet powerful application suite to meet their business needs.
IHS Kingdom enables geologists and geophysicists to conduct dynamic depth conversion of time-based geophysical data – transforming a common time-intensive geosciences workflow that used to take hours to process can now be accomplished in seconds.
Roundtree says, "IHS Kingdom, and its dynamic depth-conversion capability, has been described by some of our customers as being truly 'transformational.' Some customers have made it a best-practice requirement for the company's drilling and geoscience teams due to its unprecedented ability to keep the horizontal wellbores within the productive target zone of the reservoir and optimise the productivity of these costly long laterals. We are excited to see Statoil incorporate this innovative technology into their workflows."