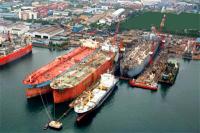 Keppel Offshore & Marine Ltd (Keppel O&M)'s local and overseas subsidiaries continue to win strong support from repeat customers by securing four contracts worth a total of about S$125 million.
In Singapore, Keppel O&M's wholly-owned subsidiary Keppel Shipyard Ltd (Keppel Shipyard) secured two conversion contracts - the first is for a Liquefied Natural Gas (LNG) Floating Storage Unit (FSU) vessel awarded by Armada Floating Gas Storage Limited, a wholly-owned subsidiary of Bumi Armada Berhad (Bumi Armada); the second is for a Floating Production Storage and Offloading (FPSO) vessel awarded by Yinson Production (West Africa) Pte Ltd (Yinson), a wholly-owned subsidiary of Yinson Holdings Berhad.
Work on the LNG FSU conversion for Bumi Armada is scheduled to be completed in 3Q 2016. Upon completion, the LNG FSU vessel will operate at the Delimara LNG Regasification Terminal in Malta.
As for the FPSO conversion for Yinson, work is expected to commence in 1Q 2016. The work scope includes modification work, new equipment installation complete with associated piping, electrical and instrumentation systems as well as installation and integration of the FPSO process topsides. Upon completion, the FPSO will be deployed to the Offshore Cape Three Point block located in offshore Ghana.
Mr Chow Yew Yuen, Chief Executive Officer of Keppel O&M, said, "Even in challenging market conditions, we are glad to be the choice yard for operators. This is the 14th conversion/upgrading project that we are undertaking for Bumi Armada. It is also their first LNG FSU conversion project and we are proud to be their trusted partner again. The confidence shown in us is a reflection of Keppel's proven track record in delivering quality products competitively, with high standards of safety and to customers' satisfaction