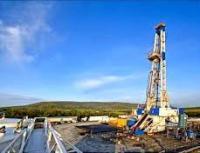 Transerv Energy says that Warro-6 is flowing gas naturally while Warro-5 continues to clean up with the aid of a jet pump.
Following the completion of the maintenance work last week, testing operations of both wells resumed on February 19th.
At Warro-6, during the shut-in period, the wellhead pressure (WHP) built to 2700 psi and as a result the decision was taken to remove the jet pump and allow the well to flow naturally. Flowing a first flush of gas at rates over 4 mmcfd in the first 24 hours, the gas rate stabilised at 0.73mmcfd and has since been steadily increasing to the present rate of 0.85 mmcfd.