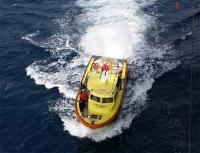 3D Oil Limited advises that wireline evaluation and sampling of formation fluids over zones of interest identified on preliminary Sea Lion -1 data have been completed. This work has confirmed that no zones of commercial hydrocarbons were encountered in the Sea Lion-1 well.
Current operation is running out of the hole with logging tools. Forward operations are to plug and abandon the Sea Lion -1 well and to de-mobilise the West Telesto drilling rig from the site.
This is the final Drilling Progress Report for Sea Lion -1. TDO will advise when all site operations are compete and the West Telesto has been released.