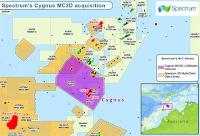 Spectrum has commenced a new 3D Multi-Client project over the Vulcan Sub-basin, offshore North West Shelf, Australia.
The Cygnus 3D survey is being acquired in collaboration with Polarcus and DownUnder GeoSolutions and will comprise a minimum of 4,000 sq. km and is designed to provide exploration companies with a basin-wide high quality broadband 3D seismic dataset over this proven hydrocarbon province.
The survey is adjacent to Spectrum's Cartier Main 3D survey, acquired in 2010 and recently reprocessed to broadband PSDM. With this latest survey, Spectrum's 3D coverage in the Australian North West Shelf will total 40,000 sq. km of newly acquired 3D Multi-Client data (less than 5 years old).