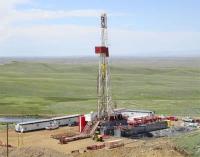 Elk Petroleum Limited that its wholly-owned US subsidiary, Elk Petroleum, Inc., has agreed to dismiss the civil lawsuit filed on 15 May 2015 in the Wyoming Federal Court asserting several breaches of the agreements between Elk Petroleum, Inc. and Denbury Onshore, LLC, including the Participation and Development Agreement signed on 6 May 2011 that provides for the development and operation of the Grieve CO2-EOR project near Casper in Wyoming, USA (see the 18 May 2015 ASX announcement for a description of the Complaint). Denbury is a subsidiary of Denbury Resources, Inc. Denbury is both a joint interest participant in and operator of the Project.
In the agreement with Denbury to dismiss the lawsuit, Denbury and EPI have agreed to attempt good faith negotiations for the sale of all of Denbury's interest in the Grieve project. The Negotiation Period shall extend from the date of this agreement until 1 November 2015, or until viable and productive negotiations cease.
Until the Negotiation Period has ended, Denbury may not institute proceedings for breach of the PDA and related agreements, foreclosure under the Grieve Agreements, or for any cause of action or remedy related to the Grieve Agreements or transactions contemplated thereby, and EPI may not refile the lawsuit against Denbury, or commence litigation concerning the same matters set forth in its lawsuit against Denbury.