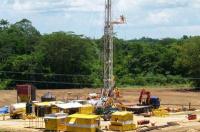 Range Resources has received a notice from Agencia Nacional de Hidrocarburos ('ANH'), National Hydrocarbons Agency of Colombia, which states that the licences over the three exploration blocks, PUT-5, VMM-7, and VSM-1 have been revoked.
The licences were awarded to a consortium of Optima Oil Corporation ('Optima') and the Company in December 2012.
ANH alleges that this is a result of the exploration work commitments not being fulfilled and presentation of invalid letters of credit by Optima.