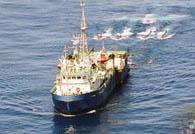 Sterling Energy says that its wholly owned subsidiary Sterling Energy Mauritania Limited has submitted a notice of withdrawal to its joint venture partners in relation to Block C-3, offshore Mauritania.
As part of the withdrawal, SEML will assign its entire 40.5% participating interest in the production sharing contract for Block C-3, located offshore in the Islamic Republic of Mauritania to Tullow Mauritania Limited at no cost to Tullow.
The minimum work obligations for Block C-3 have been completed. As a result, SEML will have no additional costs associated with the withdrawal.