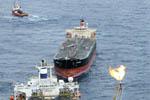 AWE Limited announced initial results from the Irwin-1 exploration well, located in the onshore Perth Basin, Western Australia. The Irwin structure straddles the EP320 (AWE 33%) and L1 (AWE 50%, Operator) boundary and the Irwin-1 drilling program is being operated by AWE under an agency agreement with joint venture partner, Origin Energy Limited.
The Irwin-1 well was drilled to a total depth of 4,049m. The primary target, the Dongara/Wagina sandstones, was intersected at 3,146m. Sidewall cores and gas samples were collected and have been sent for compositional analysis.
Initial analysis of the wireline logs indicates a 32m gas column in the Dongara/Wagina tight gas reservoir with a gas/water contact interpreted at 3,085m total vertical depth subsea (TVDSS). This is the same depth as the log indicated gas/water contact in Warradong-1, previously drilled in the adjacent Synaphea structure, 4.5 km to the south. The common contact suggests that these two wells may have intersected the down-dip portion of a single large gas accumulation that includes both the Irwin and Synaphea structures. AWE estimates gross 2C Contingent Resources of 15 billion cubic feet (Bcf) of gas for Irwin and 134 Bcf of gas for Synaphea. The up-dip portion of the Synaphea structure, located in permit L1 has not yet been drilled.