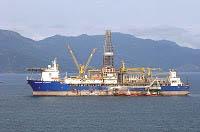 Kosmos Energy says that the Marsouin-1 exploration well, located in the northern part of Block C-8 offshore Mauritania, has made a significant, play-extending gas discovery. This is the company's second major discovery of 2015.
Based on preliminary analysis of drilling and wireline logging results, Marsouin-1 encountered at least 70 meters (230 feet) of net gas pay in Upper and Lower Cenomanian intervals comprised of excellent quality reservoir sands. Located approximately 60 kilometers north of the basin-opening Tortue-1 gas discovery (renamed Ahmeyim), Marsouin-1 was drilled in nearly 2,400 meters of water.
"Marsouin-1 is our second major discovery of 2015, extending our 100 percent success rate in the outboard Cretaceous petroleum system offshore Mauritania and Senegal. Well-to-seismic calibration has significantly de-risked the discovered resource base, as well as future prospects in the basin. Importantly, the well results have validated our charge model and given us growing confidence in our ability to predict the oil and gas potential of this emerging, large-scale petroleum system. We have a disciplined exploration and appraisal program planned to further unlock the basin," said Andrew G. Inglis, chairman and chief executive officer.