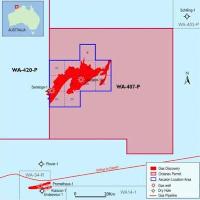 Octanex N.L. advises that a location has been declared over the Ascalon gas discovery in the Southern Bonaparte Basin, offshore from Western Australia. The declaration is an initial step in obtaining a retention lease over the discovery.
The Ascalon gas accumulation is located approximately 465km west of Darwin in water depths of less than 100m and in proximity (~60km) to the Ichthys to Darwin pipeline. The location covers 11 graticular blocks within the WA-407-P petroleum exploration permit, in which Octanex holds a 100% interest.
Drilled by Mobil in 1995, the Ascalon-1A discovery well recovered gas to surface; proving the presence of a large dry gas accumulation within sandstones of the Late Permian, Cape Hay Formation of the Hyland Bay Subgroup.