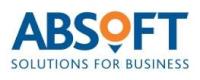 Absoft has secured a contract with TOTAL Exploration and Production UK Ltd, to provide SAP support services for their North Sea operations, some of which are around the clock.
Under the 3-year agreement, Absoft will supply front office support from a team of dedicated consultants based onsite at TOTAL's Aberdeen office in the UK, as well as provision of remote support services from Absoft's SAP Partner Centre of Excellence.
The SAP support agreement covers key disciplines including: HR, finance, joint venture accounting, operations and maintenance, projects and supply chain management.
TOTAL has also chosen Absoft's NetWeaver Managed Service offering. This is the SAP specialist's flagship technical support solution, which enables Absoft consultants to assume responsibility for secured monitoring and patching TOTAL's SAP system landscape, with provision of an on-call service, available 24/7.