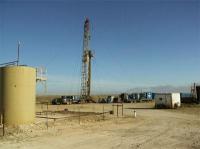 Blackbird Energy Inc. says that its first two operated horizontal Montney wells, which are located at 06-26-70-07-W6 ('06-26') and 05-26-70-07W6 ('05-26') on Blackbird's 69 section land block at Elmworth, Alberta, Canada, have been successfully completed and tested.
The 06-26 and 05-26 wells were drilled into the Middle Montney and Upper Montney intervals respectively, and both wells represent significant condensate and liquids-rich gas discoveries for Blackbird. Blackbird is operator and has a 100% working interest in both wells and its lands at Elmworth.
The 06-26 well, which targeted the Middle Montney interval, was drilled to a total measured depth of 4,734 meters, including a horizontal lateral of 2,052 meters. The well was stimulated with a 14 stage slick-water plug-and-perf completion with three to five perforations per stage, for a total of 51 intervals, and approximately 55 tonnes of proppant per interval.