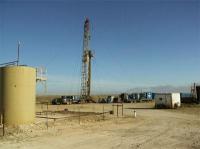 Blackbird Energy Inc. is pleased to provide an operational update regarding its drilling program at Elmworth.
Drilling Program
Blackbird has successfully drilled, logged and cased it's third 100% working interest well at Elmworth, located at 2-20-70-7W6 (the "2-20" well).
The 2-20 well drill program included the drilling of a vertical pilot well from surface location 10-8-70-7W6 to a vertical depth of 2,582 meters. The vertical pilot well was then logged using state of the art logging technology, from surface to the bottom of the Lower Montney.
Upon completion of logging operations, Blackbird drilled a horizontal leg of approximately 2,000 meters targeting the Middle Montney formation to downhole location 2-20-70-7W6. The total measured depth of the 2-20 well is 4,660 meters.