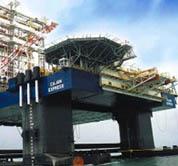 Cairn Energy Plc, operator of the Senegal joint venture, has announced it will drill an exploration well on the Bellatrix prospect offshore Senegal as the third well in the upcoming appraisal and exploration program.
FAR and its joint venture partners in Senegal will start appraisal drilling on the world class SNE discovery in early Q4. The three wells in the firm drilling program is expected to be drilled using the ConocoPhillips contracted Ocean Rig Athena drillship.
Two wells will be drilled to appraise the SNE field and are aimed at progressing towards proving the threshold economic field size which the Operator announced is >= 200 mmbbls for a foundation project.