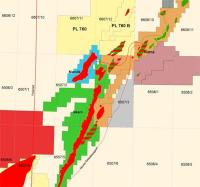 Lime Petroleum Norway AS (Lime Norway) has entered into an agreement with EnQuest Norge AS (EnQuest) to acquire their 50 per cent share in licences PL760 and PL760B.
The licences are located some 25km west of the Norne oil/gas field in the Norwegian Sea in water depths of 370 meters. Following the transaction, the ownership will be Total E&P Norge AS (Total) as operator with 50% and Lime Norway with 50% share. The transfer is subject to authority approval.
The adjacent Marulk gas field is producing from similar Cretaceous reservoirs as being targeted in PL760/760B. Further, the deep water Aasta Hansteen gas/condensate field to the north is under development including the Polarled gas pipeline to shore passing close to PL760. The exploration potential is considerable and supported by the seismic Rex Virtual Drilling technology. Drilling could take place in 2016 or 2017 given a drill decision at the licence milestone in February 2016.
Ivar Aarseth, CEO of Lime Norway, said: "We are pleased to have secured these attractive blocks close to infrastructure and partnering with the reputed operator Total