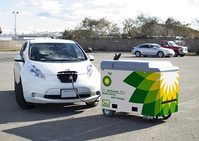 BP has announced that its venturing business has invested USD 5 million in FreeWire Technologies Inc., a US-based manufacturer of mobile electric vehicle (EV) rapid charging systems, and plans to roll out FreeWire's Mobi Charger units for use at selected BP retail sites in the UK and Europe during 2018.
Tufan Erginbilgic, chief executive, BP Downstream, says, "Mobility is changing and BP is committed to remaining the fuel retailer of choice into the future. EV charging will undoubtedly become an important part of our business, but customer demand and the technologies available are still evolving. Using FreeWire's mobile system we can respond very quickly and provide charging facilities at forecourts where we see the greatest demand without needing to make significant investments in today's fixed technologies and infrastructure. The opportunity also to explore options for providing charging services away from our existing retail sites makes FreeWire an ideal partner for BP."
"We applaud BP's commitment to providing a wide range of charging methods for its global customer base," says Arcady Sosinov, CEO of FreeWire Technologies. "The Mobi Charger can be quickly and cost effectively scaled across vast transportation networks — flexibility that delivers benefits all along the EV charging value chain. We are thrilled that BP, which is such a significant provider of transportation infrastructure, has acknowledged the promise of our solution through this investment and partnership."
BP is committed to supporting the transition to a lower carbon economy through focusing on reducing its own operational emissions, improving its products to enable customers to lower their emissions and creating low carbon businesses. BP Ventures supports each of these areas by identifying emerging trends and businesses, making strategic investments and testing technologies and solutions for their scalability. The investment in FreeWire is an example of how BP Ventures is working alongside BP's Downstream business.
David Gilmour, vice president of BP Ventures, adds, "BP first worked with FreeWire through the RocketSpace Tech Mobility Accelerator, and we believe its mobile fast charging technology will be one of a number of fuelling options that will be needed to address the future of lower carbon mobility. We were encouraged by FreeWire's expertise and their product. We are excited to be making this investment and to continue working with them, testing customer demand for the product and further developing the offering for the fast growing EV supply equipment market."