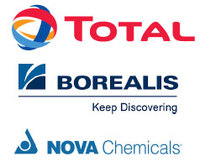 Total S.A., Borealis AG and NOVA Chemicals Corporation have announced that affiliates of the three companies have signed definitive agreements to form a joint venture in petrochemicals on the US Gulf Coast.
The joint venture – in which Total will own 50% and Novealis Holdings LLC, a joint venture between Borealis and NOVA Chemicals, will own the remaining 50% – will commence subject to customary closing conditions, including receipt of regulatory approvals.
The joint venture will include:
The under-construction 1 Mt/y (2.2 b lb) ethane steam cracker in Port Arthur, Texas.
Total's existing polyethylene 400 kt/y (880 m lb) facility in Bayport, Texas.
A new 625 kt/y (1.35 b lb) Borstar ® polyethylene unit at Total's Bayport, Texas, site, following a decision on the outcome of an acceptable EPC contract.
As announced in March 2017, the new USD 1.7 billion ethane steam cracker is being built alongside Total's Port Arthur refinery and Total/BASF existing steam cracker. The project, which is scheduled to start up in 2020, will create around 1,500 jobs during peak engineering and construction activity.
"This agreement is a key milestone for this integrated petrochemicals project. This joint venture is aligned with Total's strategy to strengthen our position by taking advantage of low-cost US gas," says Bernard Pinatel, President, Refining & Chemicals, Total. "We look forward to working with Borealis and NOVA Chemicals to create world-class facilities and become a major player in the growing US and global market for polyethylene."
"The JV with Total and NOVA Chemicals is a key project in advancing our global growth. Not only are we convinced of the excellent cost-economics of this integrated brownfield investment project, but we are also excited to bring our unique product grades based on our Borstar technology to the North American market," says Borealis CEO Mark Garrett.
"A key component of NOVA Chemicals' growth strategy is to expand beyond our traditionally Canadian footprint by extending our presence in the U.S. Gulf Coast," states NOVA Chemicals CEO, Todd Karran. "Partnering with Total and Borealis will allow us to better serve our customers throughout the Americas by delivering a broader slate of products that help make everyday life healthier, easier and safer."