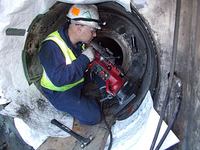 The technology group Wärtsilä is expanding the service offering of its QuantiServ business line with the acquisition of the American engineering company LOCK-N-STITCH. The acquisition strengthens Wärtsilä's service portfolio for customers operating multiple brands.
The QuantiServ business line within Wärtsilä Services was established in 2016 to provide support and maintenance services for customers operating equipment by multiple brands – including Wärtsilä acquired service brands (e.g. Deutz, Sulzer, Stork, Nohab, Crepelle) and/or other manufacturers' brands – both in the marine and energy sectors. The services offered are reconditioning services, in-situ services as well as flexible repair and overhaul services for auxiliary and generating sets.
LOCK-N-STITCH specialises in cast iron repairs, and its expertise will complement the service offering of the QuantiServ business line. By incorporating the technologies and skills of LOCK-N-STITCH into the QuantiServ products portfolio, customers operating multiple brands can be offered a more comprehensive service. Furthermore, LOCK-N-STITCH has experience in the application of 3D technology for repair services. The recent development includes utilisation of 3D scanners for scanning of broken parts and 3D design of tailor made replacement castings.
LOCK-N-STITCH has developed sophisticated technology for metal stitching repair, thread repair, furnace brazing and fusion welding for marine and power applications. As QuantiServ is available in major maritime locations as well as inland for any power plant location, the patented LOCK-N-STITCH solutions can be applied on a global level to provide existing and new customers with high quality repair services.
"We have cooperated with LOCK-N-STITCH in the past, and the company's impressive repair capabilities are a good fit for the QuantiServ portfolio. We are confident that this acquisition has strong potential to create value for customers," says Guido Barbazza, Vice President, Emerging Businesses, Wärtsilä Services. "New capabilities in cast iron repair provide direct business opportunities, and we expect to grow our market share for such repair solutions and generally within in-situ services as well."
The family-run LOCK-N-STITCH was established in 1990 and is based in Turlock, California, where the company employs 35 people and serves customers within the marine and energy sectors as well as other industries. Some 90% of annual revenues consist of repeated business from existing customers, which attests to the high customer satisfaction and trust in the company's products and services. The offering of LOCK-N-STITCH will be gradually brought to other QuantiServ locations.
"We are very happy to join the QuantiServ business. Wärtsilä's extensive network is an opportunity for us to expand the geographical reach of our services to the far ends of the world. Through it, LOCK-N-STITCH has the means to further develop its technologies and expertise and increase customer value. We have experience in the application of 3D technology in repair services. The strong digitalisation focus via the new cooperation will certainly introduce interesting possibilities in that area," says Gary Reed, CEO of LOCK-N-STITCH.