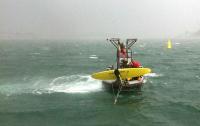 Marine renewable energy company Minesto, has together with eight partners received EUR 5.1 million, to develop the Deep Green technology within a project named PowerKite. The project will be financed through EU Horizon 2020.
EU has a strong ambition to develop the field of marine energy and has quadrupled its budget over the next four years. To utilize the oceans is something that also has been prioritized at the climate meeting in Paris, COP21, in programs such as "Energy and water: a nexus for development and adaptation to climate change" and "Ocean solutions for our climate: mitigation through marine innovation".
Together with eight partners Minesto now have now secured EUR 5.1 million to improve the Deep Green technology's robustness and performance. The aim is to develop the next generation of the Deep Green power plant; to give it a better performance, a longer life expectancy and improved reliability, all in order to further reduce costs for generating electricity from tides and ocean currents.