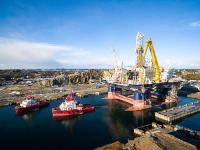 Semco Maritime, Norway has completed the upgrade project on the rig Island Innovator.
The rig left the Semco Maritime yard at Hanøytangen on Friday 24 February. It has been in the yard since September 2016. After various modification and service work the rig will now mobilise to the Edvard Grieg field in the Norwegian part of the North Sea to work for Lundin Petroleum, drilling for 16/1-27 appraisal well for 30 to 35 days.
During the yard stay the 5-year SPS (Special Periodic Survey) classification has been performed on the rig. Besides that an extensive airgap project has been carried out, including blinding of 64 windows and watertight doors. The semi-submersible rig, which was built in 2012, has also undergone contractual specific modification scope.
"It has been a pleasure working together with the Island Drilling organisation and the Oddfjell project team," says Nikolaj Vejlgaard, Vice President of operations at Semco Martime. He adds, "we are proud to have completed another rig upgrading project for a satisfied client and look forward to continuing the cooperation with Island Drilling and Odfjell."
With the facilities at Hanøytangen Semco Martime offers one of the most versatile yards, which has the deepest dry dock in Europe with a depth of 17 meter and an ultra-deep-water quayside facility with a water depth of more than 90 metres.