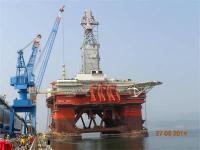 Seadrill Limited has announced that it has reached a settlement agreement with Hyundai Samho Heavy Industries Co Ltd. (HSHI) in relation to the West Mira arbitration. Seadrill will receive a cash payment of USD 170 million in March 2017 as full settlement of the dispute.
Arbitration proceedings began in October 2015 following the cancellation of the construction contract for the West Mira and were expected to conclude during the first half of 2018. This settlement agreement brings an early conclusion to the arbitration process.
The Company will take a non-cash impairment of approximately USD 44 million to reflect the difference between the carrying value of the West Mira receivable and the cash payment to be received.
As part of this settlement, Seatankers, a related party, has purchased the West Mira from HSHI.
Seatankers is an asset holding company and is not expected to engage in offshore drilling activities in competition with Seadrill. The Company expects to execute an agreement with Seatankers for the commercial and technical management of the West Mira as well as a right of first refusal for purchase of the unit.