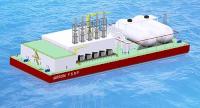 Wison Offshore & Marine has announced that its newly developed floating storage regasification and power generation barge (W-FSRP) has received Approval in Principle from Bureau Veritas. W-FSRP integrates functions of LNG loading and storage facilities, regasification and power generation. Wison and Bureau Veritas have completed the validation for the specified design of 50MW FSRP this time.
As the turnkey service provider for the world's first FLNG and FSRU barge, Wison built on its rich expertise in floating LNG facilities to provide the LNG industry with innovative solutions, ranging from floating liquefaction unit, shallow water LNG carriers and LNG-Distributor (LNGD), bunkering vessel, etc. Mr. Maarten Spilker, Senior Solutions Director of Wison Offshore & Marine says, "With the interest in small scale LNG-to-power growing, we are developing the building blocks for a lean and integrated supply chain. Combining LNG storage, regasification and power generation on a single facility significantly reduces the cost of infrastructure and makes small scale gas-to-power solutions more attractive."
Bureau Veritas has very extensive experiences in classification/certification of floating power plants. Jiahui Wu, Technical Manager of Bureau Veritas China says, "Bureau Veritas is very pleased to be involved at the very early stage of this 50MW FSRP design and to provide necessary technical assistance to WISON in order to help this Chinese shipyard develop a safe and effective power supply solution by near shore floating facilities to end users. WISON is one of the most active players in the new sectors of offshore market such as floating power plant and Bureau Veritas would like to further cooperate with WISON for such innovative Offshore projects."
W-FSRP 50MW is designed to supply 50MW electrical power using LNG as primary fuel and MDO/HFO as backup. The FSRP will be of shallow draft barge type moored at a jetty, inter coastal or alongside river bank where the environmental condition is benign.
Other key features of W-FSRP:
Integrated on board LNG storage, regasification facility, and power plant.
Can be easily towed/shipped and installed in remote areas.
Re-Gas capacity-10MMSCFD.
Dual fuel Engine and Dual fuel system (in case of unstable LNG supply)
Either LNG storage or MDO storage allows about 14 days operation. However a larger hull to accommodate more MDO storage or bigger LNG tanks can be available if requested by customer.