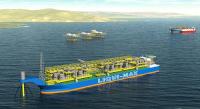 Global LNG Services (GLS) has reached a cost breakthrough for its floating liquefaction platform, the LIQUI-MAX™ vessel, and will be able to offer floating tolling fees at a floor level as low as USD 1.75 per MMBtu.
Established in 2013, GLS's ambition is to develop and operate safe, cost effective floating liquefaction solutions for the global "plug and play" market. The standardised LIQUI-MAX™ Vessels require minimum customisation and enable developers of LNG export projects in remote locations without infrastructure to achieve low costs and high cost control.
Coal has been the primary source of low cost, plentiful energy. However, the cumulative emissions of the expanded use of coal have made the world reach an inflection point in its ability to absorb the impacts. Severe local air pollution issues and global climate influence have created urgency to find alternative energy sources. For large-scale, uninterrupted energy supply, LNG is the preferred alternative.
GLS's protected technology enables large-scale, commercially attractive production of LNG worldwide. The LIQUI-MAX™ Vessel at 380 meters total length will produce 12 MTPA. The budgetary quotes for the 12 MTPA Vessel are less than $3.5 billion, or less than USD 300 per tonne of LNG per Annum (TPA). The LIQUI-MAX™ Vessel uses air cooling and nitrogen coolant to ensure full compliance with the strictest environmental and safety standards. Pre-cooling enables efficiency at the same level as any mixed-refrigerant liquefaction process.
The LIQUI-MAX™ is a fully standardised vessel using only field-proven components, with pre-processing of the gas being done off the vessel. Construction costs for the LIQUI-MAX™ will benefit from series production, enabling further cost reduction. The global market for LIQUI-MAX™ Vessels is estimated at 20-40 vessels producing 6-12 MTPA based on projects currently considered for development.
The GLS technology and cost advantage is protected through a carefully designed patenting program. GLS contracting and project execution strategy includes long-term Frame Agreements with key partners.
Siemens and GLS are in discussions regarding a Memorandum of Understanding which is expected to be signed over the next few weeks.
GLS is also in discussions with Sembcorp Marine regarding a Memorandum of Understanding, expected to be signed over the next few weeks.