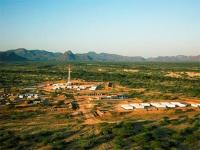 Africa Oil Corp. says that the Etom-2 well in Block 13T, Northern Kenya, has encountered 102 metres of net oil pay in two columns. The objective of the well was to explore the north flank of the Etom structure in an untested fault block identified by recent 3D seismic.
Oil samples, sidewall cores and wire line logging all indicate the presence of high API oil in the best quality reservoir encountered in the South Lokichar Basin to date. Additional prospectivity identified on the 3D seismic in the Etom Field area and in the northern portion of the basin, including the Erut and Elim prospects, will now be considered as part of the future exploration drilling program.
Discovering this thick interval of high quality oil reservoirs further underpins the development options and resource base. The result follows careful evaluation of 3D seismic data which was shot after the Etom-1 well and demonstrates how the partnership has improved its understanding of the South Lokichar Basin.