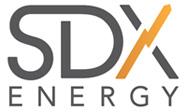 SDX Energy Inc. has provided an update on its activities on the Manatee-1X exploration well in Bakassi West, Cameroon.
Further to the announcement on March 28 regarding the completion of drilling activities on the Manatee-1X well, located in shallow water in the Rio Del Rey Basin, offshore Cameroon, SDX has announced withdrawal from the concession.
The company held a 35% working interest (38.89% paying interest) in the concession, which was operated by Dana Petroleum.
The Operator requested a one-year extension to complete analysis of the results of the well, which intersected 26 metres of gas bearing section of varying quality throughout the wellbore. Wellbore conditions did not allow the acquisition of a full suite of logging tools in the deeper sections of the hole and made the analysis of the lower intervals in the well inconclusive. Authorities did not grant the Operator's proposal of a one-year extension and instead asked the Company to enter into the second exploration period, which required an additional well commitment; SDX declined to continue to move forward with this project.
Paul Welch, CEO, comments, "The Bakassi West concession is not a core asset to our business and we do not believe it would have been prudent to continue investing in it. The Bakassi West concession was acquired by SDX in October 2015 as a result of a merger between Sea Dragon Energy and Madison PetroGas. Whilst the concession was an exciting opportunity, it was fundamentally non-core, and our subsequent exit allows the company to focus all of our efforts on growing our high margin production business in our core assets across Egypt. We are continuing to move forward as planned with our operations in Egypt and I look forward to reporting on our progress in subsequent updates."