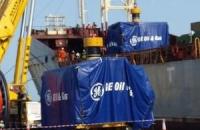 UK Export Finance (UKEF) has announced that it will provide USD 400 million in support for a GE Oil & Gas contract with Ghana's Offshore Cape Three Points Project.
UKEF is supporting a GE Oil & Gas contract worth US USD 850 million, which will support jobs in the Aberdeen and Bristol areas. This is the first time a European export credit agency has supported a financing structure of this kind, and is UKEF's first direct loan for a project in Africa.
GE Oil & Gas, which is headquartered in the UK, is providing subsea production systems to the project, which will develop oil and gas fields approximately 60 km offshore from the western side of Ghana's coast. Following first gas production in 2018, the new fields are expected to continuously feed Ghana's thermal power plants for more than 20 years.
Rt Hon. Greg Hands MP, Minister for Trade and Investment, says, "The Offshore Cape Three Points Project will greatly improve Ghana's energy security. Thanks to the UK Government's support, via UK Export Finance, and our global leadership in oil and gas, UK companies are ideally placed to support Ghana's future development and seize the huge export potential that brings."
Lorenzo Simonelli, President and CEO of GE Oil & Gas, says, "This contract represents GE's ability to invest to build local partnership, resource and infrastructure capabilities, and will utilise engineering and manufacturing expertise from the UK, across the supply chain. Export credit agency financing is an important source of support for our customers, and the MoU signed with UKEF in 2015 has helped to support this success."
The Offshore Cape Three Points (OCTP) project will develop gas reserves expected to generate an additional 1,100MW of power for Ghana, which will alleviate the country's reliance on energy imports, providing long-term energy security and supporting Ghanaian industrial development. This transformational natural gas project will help the country achieve its COP21 commitments for climate mitigation by displacing heavy fuel oil use with gas – equivalent to taking 1.2 million cars off Ghana's roads each year or planting 152 million trees.
Support for the contract is a result of the Memorandum of Understanding signed between GE and UKEF in 2015, affirming UKEF's support for GE and GE's commitment to continued investment in its UK operations.
UKEF will provide USD 400 million of support to the OCTP project, including a loan under its Direct Lending Facility. This will be UKEF's first direct loan for a project in Africa. UKEF support will finance the specialised systems and equipment, a significant proportion of which has been sourced from the UK.
OCTP is understood to be the world's first upstream oil and gas development transaction where a European export credit agency (ECA) has supported a major hybrid finance structure comprising both project finance and reserve-based lending. As the sole ECA, UKEF played a pioneering role in establishing this precedent, reinforcing its growing reputation as one of the world's most innovative and flexible ECAs. The transaction has been named Project Finance International's African Oil & Gas Deal of the Year for 2016.
Total investment in the development of the OCTP are estimated to be USD 7.9 billion over the life of the project, represents the largest foreign direct investment in Ghana's history. UKEF's support is provided as part of a larger USD 1.35 billion financing package alongside that of the International Finance Corporation and Multilateral Investment Guarantee Agency of the World Bank Group, as well as commercial banks HSBC Bank plc, Standard Chartered Bank, Société Générale (London Branch), ING Belgium SA/NV, Natixis, Bank of China, Singapore Branch, Mizuho Bank Ltd and MUFG (Europe) N.V.