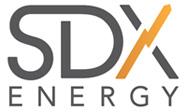 SDX Energy Inc., the North Africa focused oil and gas company, has provided an operational update on its Moroccan assets.
The Gharb Centre exploration permit, covering an area of over 1362 km2, has been awarded to SDX for a period of eight years, with a firm commitment from SDX for the acquisition of 200 km2 of 3D seismic, and two exploration wells within the first 4-year period.
The Gharb Centre area comes with a considerable quantity of recently acquired 2D and 3D seismic which has established multiple target horizons throughout the Miocene-aged strata, similar to what the Company produces from in its surrounding licenses.
The activity at Gharb Centre complements the work programmes at both Sebou and Lalla Mimouna, where development and exploration wells are planned for H2 2017, as previously announced. Pre-drilling activity is now underway in both permits where the tendering process for drilling rigs and associated services has been initiated. SDX has also received partner approval for seven drilling locations in these permits and is targeting a late Q3 2017 start date for the program.
Paul Welch, CEO of SDX Energy, comments, "We are very pleased to have expanded our footprint in Morocco with the award of the Gharb Centre exploration permit. Given the amount of 2D and 3D seismic acquisition that has been undertaken in the past, we believe there is clear potential for material upside in this concession that can be easily tied into our existing infrastructure. This acreage connects the Lalla Mimouna exploration permit with the Sebou producing concession enabling us to see the complete basin picture and thus high grade the opportunity dataset that we develop."
"With our partner, the Office national des hydrocarbures et des mines (ONHYM), SDX now has a dominant commercial and technical position across the basin and we look forward to capitalising on the opportunities to grow our reserve and production base in Morocco. Our target is to fulfil the pipeline capacity coming out of the basin, which would entail the quadrupling of production from our current levels. This permit acquisition makes clear strategic sense to SDX, as this acreage brings significant synergies to our expanding asset base in Morocco," adds Welch.