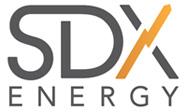 SDX Energy Inc., the North Africa focused oil and gas company, has announced the spud of its KSR-14 development well on the Sebou permit in Morocco.
This is the first of a nine well drilling programme on the Company's Sebou, Gharb Centre and Lalla Mimouna permits in Morocco. The campaign follows extensive technical work from which the optimal drilling locations were identified. The company is targeting an increase in its local gas sales volumes in Morocco by up to 50% and an increase in its reserves by more than 100% through this drilling campaign.
SDX expects to announce the drilling results at KSR-14 in mid-October. On success, the well will be completed, flow tested and connected to the existing infrastructure. These activities are anticipated to be carried out within 30 days of the drilling rig departing the location.
Paul Welch, President and CEO of SDX, comments, "This is the start of what will be a very busy period for the Company. In Morocco, we are looking forward to commencing this nine well programme which will allow us to begin to address a portion of the local demand that we have identified."
"In Egypt, we continue to make progress at South Disouq, where we plan to drill the Kelvin-1X and Bragg-1X exploration wells, targeting 150 Bscf of resources, in conjunction with two development wells in Q1 2018. I look forward to reporting on the results of this first well for SDX in Moroccoand the progress we are making on our South Disouq development in future releases," adds Welch.