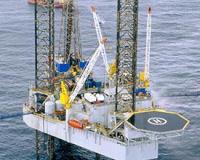 SDX Energy Inc., an oil and gas exploration and production company with assets in Egypt and Cameroon, reports that drilling operations have been completed on the Manatee-1 exploration well in Cameroon. The well is operated by Dana Petroleum and SDX holds 35% working interest (38.89% paying interest) in the concession.
The Manatee-1 well, which is located in shallow water in the prolific Niger Delta Basin, offshore Cameroon, was spud on March 2nd, using the Paragon M825 jack-up rig, reached TD of 1,447 meters on March 27th.
The well intersected 26 metres of gas bearing section of varying quality throughout the wellbore. Wellbore conditions did not permit the acquisition of a full suite of logging tools in the deeper sections of the hole which makes the analyses of these lower intervals inconclusive at this time. Additional technical work will be completed with the samples and material collected from the well to improve the understanding of their quality in a post well analyses. The operation was conducted safely and within the anticipated pre-well budget estimate.
Commenting on the results, CEO Paul Welch says, "Whilst we are disappointed not to have made an oil discovery, we recognised the risks associated with exploration wells of this kind. The secondary objective was to see whether we could make a commercially viable gas discovery. At this stage it is too early to quantify the Manateee-1 gas potential and our technical team will be working closely with our partners to evaluate the well results to determine if the gas volumes on the block have commercial potential. Positively, the Block contains a further 12 prospects and leads which have been significantly de-risked by the Manatee-1 well results. We will use the information obtained from this well to improve our understanding of the Bakassi West Block so that we can sit down with our partners and the relevant authorities to discuss the next steps."