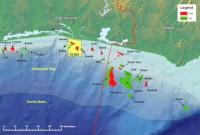 Azonto Petroleum has worked over the past few months to tidy up legacy issues relating to the disposal of the company's oil and gas activities in West Africa. Following the disposal, a number of corporate matters have been seen to that are necessary to compete prior to the company embarking on a new venture so as to provide clarity and certainty in respect of the company's financial statements. These activities have involved:
The liquidation of Azonto Petroleum (Ghana) Limited which is expected to be completed imminently.
The Liquidation of Azonto Petroleum (UK) Limited which is in progress.
The early completion of Azonto Petroleum Limited December 2015 year-end audit (commenced).
The removal of Azonto Petroleum Limited from UK tax reporting requirements, which is in progress.
Sub-lease of the London office and sale of office and IT equipment completed in December 2015.