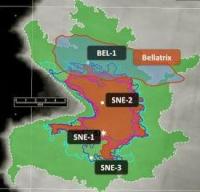 FAR Ltd, a member of the Senegal Joint Venture, has received a Presidential decree extending the current Petroleum Sharing Contract (PSC) by the requested three years starting from 6 February, 2016.
This extension allows the Joint Venture time to appraise the world class SNE and FAN oil discoveries made in 2014 and to evaluate the considerable exploration potential which remains within the PSC area.
The first phase of the Joint Venture's planned appraisal and exploration program has already begun and consists of three new wells SNE-2, SNE-3 and BEL-1 that are to be drilled back to back and are expected to be completed by mid 2016 (refer ASX release 05/11/2015).
The SNE-2 appraisal well spudded offshore Senegal in the Sangomar Deep Offshore Block on 4 November. This is to be followed by the SNE-3 appraisal well and the BEL-1 exploration well in the yet to be drilled Buried Hills Play.